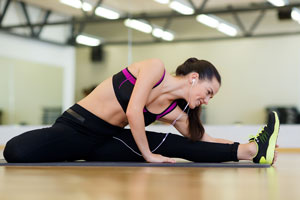 Tony Pearson is a Las Vegas personal trainer providing expert balance and flexibility training. He is an ISSA Certified Personal Trainer with twenty years of experience in successful competitive bodybuilding. The past twenty years has been sharing the knowledge he has gained over his many years of competition with his clientele. Training is customized to each client's specific needs, whether you are looking to compete, or just be fit, Tony can help.
Learn Important Stretching Exercises & Techniques
Flexibility is crucial for good health. Many people regularly train and forget to stretch or don't know how to stretch properly. Stretching is imperative to good fitness as it helps warm up your muscles, prepare them to work, increase your heart rate, and help reduce injury. Tony can work with you to increase your flexibility through the most effective stretching exercises and techniques. The rate of injury is tremendously reduced for athletes and individuals who stretch prior to engaging in sports or other fitness related activities. Reduce your number of pulled muscles, strained back injuries, and aches and pains by learning proper stretching techniques and improving your flexibility with Tony Pearson.
Improve Your Stability
Stability and balance are important for all people, whether participating in sports, or just living your daily life. Having good balance aids in better posture, reduces stress on your muscles and joints, and makes you appear more attractive. Better stability improves your weight lifting abilities as well as your balance in your day to day life. Stability and balance together reduces the rate of injury and improves performance in all walks of life, be it sports, modeling, or everyday activities.
Work On Balance
There are many neuromuscular diseases and injuries that can suddenly, or over time, rob us of our flexibility, stability, and balance. These diseases and injuries leave us feeling fearful of each step or flight of stairs. Allowing the fear of falling to take over our lives is debilitating, and our stability and balance only gets worse as we give into fear and avoid challenges. Tony Pearson will work with you at your pace to improve your stability and balance so you can live fearless again, move toward a healthier life, and create that fit body you've always wanted.
Flexibility Training Available
As we age, we lose flexibility, stability and balance. Training to develop these at a young age reduces the effects of loss later in life. Most long-term care for elderly persons begins with a serious injury due to a fall. Stability and balance training reduces falls, and improved flexibility reduces the seriousness of injuries if a fall does occur. Stability, balance, and flexibility training is appropriate for all age groups and should not be overlooked even by the competitive bodybuilder.
Start Training With Tony Pearson Today
Feel gorgeous with the lean and toned muscles Tony Pearson will help you develop. Stand tall and straight with improved back and shoulder flexibility. Walk smoothly and carry yourself gracefully with your improved stability and balance. These are all your achievable outcomes with training focused on stability, balance, and flexibility. Contact Tony today; you are just a phone call away from your first stretch and the road toward a healthy life of balance.