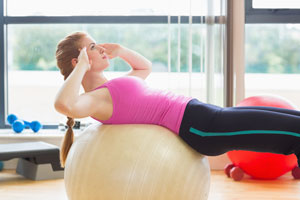 Tony Pearson is a personal trainer providing core training guidance to Las Vegas area clientele. A strong core is imperative to help you lose weight faster; get more from your workouts and to lower the risk of injury. Tony Pearson is a Muscle Beach Body Hall of Fame inductee and has been training and winning competitions since he was 19 years old. Over his many years in fitness competition, he has gained the knowledge needed to help you get into the best shape of your life. If you are interested in strengthening your core, wish to lose weight, or would like to get in even better shape for competition, Tony Pearson is the personal trainer you've been looking for.
Why Is Having Core Strength Important?
Tony Pearson can help you strengthen your core, which will help you to become more flexible and to suffer fewer injuries. As a professional bodybuilder, he realizes how important having a strong core is to your workouts. This will not only improve your workouts but will help you in all aspects of your life. You do not just use your core when you workout, you use it every day in several different functions. From just sitting up, to breathing, to helping prevent future ailments your core is used many times each day without you being aware of it. When you strengthen your core you are working multiple muscles, not just your abdominal muscles, but also your obliques, which are your side muscles, your erector spinae and your glutes. These all work together to help you stand taller, make your stomach flatter and fitter, and help you look slimmer.
Exercises That Tony Pearson Can Help With
Tony can help you develop a fitness plan that will assist you in meeting all of your fitness goals. He can work with you and encourage you throughout the entire process. His plan will include exercises such as the plank, butt lift, back extension with ball, and so many more. Tony Pearson understands that not everyone knows how to come up with a plan or can take a fitness class because of their busy schedule. He can help develop the perfect routine that will help you meet your health goals in the time you have available.
Tony Gets Results
Tony Pearson works with celebrities as both a personal trainer and nutritional consultant. He has been teaching people to focus on their goals and to understand that only hard work will get them to where ever they want to be. From just having a strong core to becoming a bodybuilder, Tony Pearson can help get you to the next level. As a previous winner of contests, such as Mr. Jr. America, Mr. America, and Mr. Olympus he understands how his strong core helped him achieve his goals. He could never have accomplished these feats without hard work and focusing on the results. He not only helps you with your core, but also helps you create a drive to succeed. Contact Tony Pearson, today, to help you realize your fitness goals and to start along the path to success.