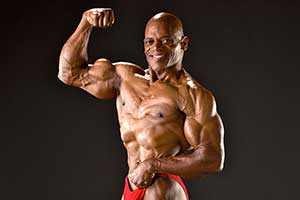 If you're ready to cut a timeless, defined, balanced shape, Tony Pearson Personal Trainer is your Las Vegas source for building a classic physique. Don't let your genetics, lifestyle or current workout keep you from developing the look you want. You know you want that classic physique, and Tony knows how to get you there.
Your Key To The V
Classic physique bodybuilding is about lines, shape, symmetry, and proportion. It's not just about getting big. It's about getting big in the right places by developing each muscle, and muscle group, properly. You want every muscle to pop as you pose through:
Front & Back Double Biceps
Side Chest
Abs & Thighs
Gain strength, endurance, and muscle with the definition that shows off all of your hard work. Tony will get you the classic deltoid, waist, and quad ratio you are after.
Gain More Than Just Mass
Muscle gains in the wrong proportion make smaller muscles look weak, robbing you of time, work, and effort. Tony can show you the right combination of weight, reps, moves, and what equipment to hit with the most energy and from every angle. Don't waste your time on counterproductive training. Let professional classic physique training chisel that waste, strengthen those shoulders, and carve detail into your body you didn't even know you had.
No Such Thing As Offseason
Tony will design a fat loss, nutrition, and bodybuilding plan that works for your specific goals. You want to diet without losing muscle and feed the muscles you do have optimally. The dense, detailed, finely developed backs, hams, delts, abs, and shoulders of a classic physique aren't going to come from sloppy form or heavier weights. Make sure offseason and lifestyle habits aren't hurting you, and every ounce of sweat is getting you where you need to be.
Get Ready To Burn, Carve & Tighten Today
Don't waste another minute wondering why you're not getting the results you want. Contacting Tony Pearson Personal Trainer in Las Vegas, Nevada is your first step to building a classic physique. Tony looks forward to showing you how the right training can make all the difference in your shape, confidence, and competition goals.