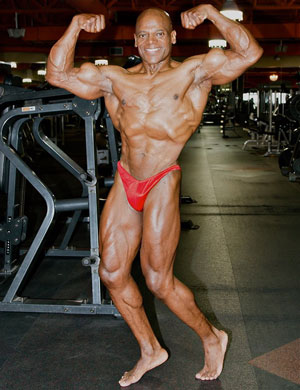 Tony Pearson is known for having the best shoulder to waist ratio in the history of bodybuilding. He has dedicated his life to bodybuilding and sharing his knowledge of fitness with others. With over 30 years experience in the world of bodybuilding, Tony Pearson has had tremendous success winning such awards as NABBA Pro. Mr. Universe in 1980 and WBBG Mr. World in 1980.
Tony has competed internationally as a singles and couples competitor and has also been featured in numerous publications. His focus, drive, and emphasis on precision has helped him greatly throughout his bodybuilding career and still lives on as he helps individuals realize and achieve their fitness goals.
Discovering Bodybuilding
While wrestling for his high school's wrestling team, Tony Pearson suffered a knee injury. In response to this, his wrestling coach took him to a bodybuilding gym to weight train in order to assist in his rehabilitation. Within a couple of months, his legs and his knee were fully rehabilitated, and many began to take notice of how quickly his body responded to the weight training. The owner of the gym took an interest in Tony's training and after six months of intensive workouts he had gained 20 pounds of solid muscle. In a way, he is thankful for that injury because it introduced him to his lifelong passion.
After another six months of training Tony decided to move to California to fulfill his dream of becoming a pro bodybuilder. He arrived in Los Angeles on a one-way bus ticket with just two pairs of jeans, $75 in his pocket, and a heart filled with optimism and self-confidence. He headed straight to the "Mecca of Bodybuilding," Gold's Gym in Venice Beach. During his time in Venice Beach, he was introduced to many of the bodybuilding greats of the time.
Finding His Mentor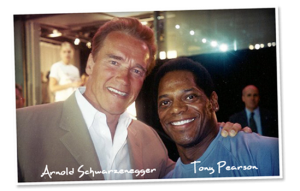 In 1976 while continuing to train in Venice on Muscle Beach, Tony Pearson was approached by bodybuilding legend Arnold Schwarzenegger, who would later become his mentor. Arnold Schwarzenegger approached Tony stating "I have been watching you – you train very hard, let me take you through a workout."
Arnold showed Tony a couple of great exercises and wrote down Joe Weider's address instructing Tony to "Go there, tell him that I sent you. He should write an article on you for his magazine "Muscle Builder".
Shortly after the meeting with Arnold, Tony entered the 1976 Mr. Venice Beach competition and won. Tony was later featured in Arnold Schwarzenegger's first edition of The Encyclopedia of Modern Bodybuilding. Schwarzenegger speaks of Tony Pearson in his book when stating "I remember a few years ago seeing a skinny black kid training at the weight pit on Venice Beach. I watched him doing endless sets of squats, with very heavy weight, torturing himself with rep after rep. After a while, his thighs began to grow and soon they were huge, separated and beautifully defined, and only a year and a half later he entered and won the 1978 Mr. America contest."
Individual Competition
Tony's bodybuilding career began to take flight as he worked his way through the amateur competitive ranks in 1978 winning the Mr. Los Angeles, Jr. Mr. USA, Jr. Mr. America, and finally, the frosting of the cake, Mr. America. During his career he became known for his symmetrical lines and razor sharp definition, and later adopted the stage name "The Michael Jackson of Bodybuilding" Tony has been featured in numerous publications and has appeared on more covers internationally, than any other bodybuilder in history.
In 1979, Tony would go on to win the Pro Mr. World, as well as the Pro Mr. Olympus in New York and the WABBA Mr. World in Italy. Following the footsteps of his mentor Arnold, he captured the Pro Mr. Universe title in London the following year.
Couples Competition
In February 1979 the owner of Gold's Gym asked Tony to guest pose at the Mr. L.A. Bodybuilding Championships together with Lisa Lyon the "First Lady of Bodybuilding" This would be the first time a male and female bodybuilder would perform on stage together, and would be a catalyst to the growth of couple's bodybuilding.
Lisa and Tony had created an unforgettable moment for couples posing and women's bodybuilding. The same year Lisa won the first Women's World Pro Bodybuilding Championship in Los Angeles.
After conquering the individual aspect of competition, the more dramatic style of couple's competition appealed to his artistic side. Combining his stage charisma with the dance of two finely tuned physiques worked well to his advantage. In an unprecedented winning streak, he garnered six pro world mixed-pairs titles with different partners in 1982 and '83 (Shelley Gruwell), '84 (Carla Dunlap), '85 (Tina Plakinger), '86 (Juliette Bergmann), and '88 (Carla Dunlap).
Later in 2010 at the age of fifty-three, Tony returned to the stage guest posing with his former Mixed Pairs partner Ms. Olympia 2001 Juliette Bergmann at the 2010 "Juliette Bergmann Bodybuilding Classic" Shortly after his performance with Bergmann, Tony made another guest appearance at the FIBO Power 2011 in Germany.
Personal Training
After retiring from competition in 1994, Tony started his personal trainer business sharing his knowledge of a 20 year career. With his wealth of knowledge and proven methods Tony has been able to help countless celebrities, and individuals obtain the body they want. By personifying true focus, professionalism, and a healthy lifestyle Tony has been able to instill the proper motivation and drive into his clientele that has greatly assisted them in achieving their optimal level of fitness, Tony believes in training individuals with the same focus, concentration, and attention to detail he utilizes in his own training. This allows them to reach their full potential and blow past their expectations. To Tony, fitness is his life, and he has dedicated his continuing efforts to staying in peak shape, and helping others find and reach their fitness goals.
The Hall Of Fame And Beyond
In 2007, Tony Pearson was inducted into Muscle Beach Bodybuilding Hall of Fame along with Arnold Schwarzenegger and Frank Zane. He has made guest appearances on "Good Morning America," "NBC Sportsworld", and "Soul Train", and dabbled in show business appearing on "Empty Nest" and "Man from Atlantis." He also competed in the now defunct World Bodybuilding Federation's shows launched by wrestling mogul Vince McMahon. They dubbed him THE JETMAN!
A Legacy Of Optimal Health And Fitness
Tony Pearson shows by example that bodybuilding is a true lifestyle of good health and being in fantastic shape is not a question of age. After a 35-year career, he is still in the game and always looking for new avenues to get his message out there to the younger generation and to encourage them to follow their dreams.
"Always keep your goal in sight. Stay focused no matter what the obstacles, because there will always be challenges along the way, no matter what you pursue. But if you are persistent, have a positive attitude and surround yourself with positive people, you will achieve your ultimate dream." – Tony Pearson