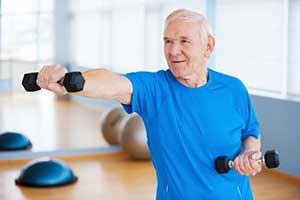 If you think that your age prevents you from working out, Tony Pearson Personal Trainer in Las Vegas, Nevada, will set you straight and help you rebuild your body and improve your life no matter how old you are. Whether you are 50, 60, or even 70, it's never too late to begin a training program tailored by Tony just for you.
Who Can Benefit From Senior Personal Training?
You may be a couch potato who has never participated in sports or athletics. Or you may have been active in athletics and physical activity when you were younger, but have become more sedentary after you retired, spending much more time in front of your TV. Then you may have had a lifetime of fitness and working out regularly but find that it's no longer as effective as it once was and want to go to the next level. No matter what age, gender, or physical level you are on, Tony has the training and expertise to guide you in developing a program that protects you from injury while sculpting your body in a way you never dreamed possible.
Why Choose Tony Pearson?
If you are over the age of 50, you may have noticed increasing changes in your body that seem to grow worse as time goes on and you become less active. You may have developed a spare tire around your middle, lack of muscle strength and waning energy levels. Experts say that most people lose approximately 1 to 2 percent of their muscle mass every year after age 50, which accelerates after age 75. Tony Pearson not only has the experience and credentials to change your life, but he is also 57 years old and recently returned to competitive bodybuilding.
Bodybuilding
Before starting a bodybuilding program at a certain age, it is important to check with your doctor first, particularly if you have a history of heart problems, high blood pressure, diabetes, joint injuries or arthritis. These factors are important in determining the scope of the fitness program Tony designs for you. As an experienced fitness trainer, he knows that each person has unique needs and that care must be taken to protect your health and avoid injuries. Once you have started to follow your custom bodybuilding program, you may find that there are rapid increases in muscle sculpting and strength. You may eventually even find yourself entering bodybuilding competitions, which have in recent years expanded to include the Masters Class for those over 50 and the Grand Masters Class for those 60 and over.
Your Experienced Bodybuilding & Fitness Trainer
Tony Pearson Personal Trainer in Las Vegas, Nevada not only has the experience necessary to help get you in shape, but he will also work with you in designing a workout, dietary and supplement program to improve your overall health and fitness and achieve the perfect body for you. Contact Tony today and explore your possibilities for being the best you can be.