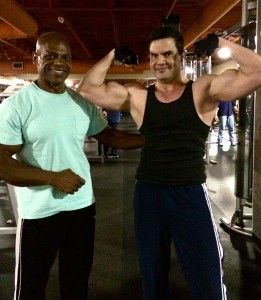 Tony Pearson is a well-respected personal trainer in Las Vegas. If you are interested in getting help with weight training, cardio, core exercises,  and diet and nutrition, Tony can help you. In six weeks, we can get you into shape, help you lose weight, teach you to eat right and start building muscle.
His training focuses on the benefits of living a healthy lifestyle by training hard to get into your best shape. You will look and feel better by starting a training routine with Tony Pearson. He will get you started by showing you around the gym and teaching you how to use the equipment, then take you through a set of workouts. Next, he will help you set some achievable goals and create strategies to achieve them. This will include diet and food suggestions. Whether you are a beginner, preparing for a competition, or if you have hit a plateau and need a personal trainer for motivation, Tony can help you to take your fitness goals to the next level.
Trainer To The Stars
Fabio
Charlize Theron
Sondra Locke
Ronn Moss
Debbie Allen
Bebe Winans
Kristin Bauer van Straten
Brooke Burns
Members Of Cirque du Soleil
Lyle Trachtenberg
Mentored By Arnold Schwarzenegger
Tony was discovered by Arnold Schwarzenegger in 1976 at Muscle Beach, Venice California. Arnold became his mentor. Later he was featured in the first Edition of Arnold's book "The Encyclopedia of Modern Bodybuilding."
Personal Training From A Champion
Why settle for anything less than the best personal trainer in Las Vegas? With over 35 years of experience as a professional bodybuilder, Tony Pearson knows what it takes to train his clients to achieve their fitness goals. No matter how tough the goal may seem, he will stand by you and monitor your progress.
It is often difficult to lose weight and get into shape without support or direction. Tony is a Las Vegas personal trainer who has had his own success in fitness and knows how to help others achieve their goals. As a former Mr. America, Mr. Pro Universe, and bodybuilding champion, Tony's experience in fitness training makes him an ideal choice as a personal trainer.
Get Help Losing Weight & Getting Into Shape
Imagine losing weight and living a healthier lifestyle. This does not have to be just a vision of the future. With the aid of a professional personal trainer like Tony Pearson, you can you reaching your fitness goals, and eventually surpass them. Your training sessions will include personalized support to encourage persistence and ensure that you stick to your regimen. Whether you want to shed several pounds, lose only a couple, or train harder to get into optimal shape for competition, Tony will help you achieve your fitness and health goals.
Strength Training Helps The Process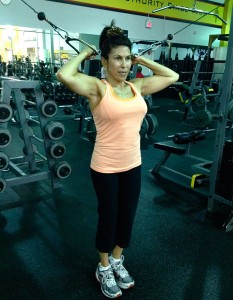 Building muscle tone with strength training is one of the most effective ways to burn fat. This training causes your body to work harder to replenish itself and bring it back to it's normal state, meaning that it takes lots of energy and helps to boost your metabolism. Strength training can make you healthier by building a stronger heart, controlling blood sugar, improving cholesterol levels, helping your balance, and improving your resting blood pressure.
Are you ready to get into the best shape of your life? Call Tony Pearson today for more information about securing his services as your personal trainer. With Tony's help, you will learn to live a more active and healthier lifestyle.